Do you want to set up your own radio station?

We have equipment for..
LOW POWER FM (LPFM) - WHICH IS LIMITED IN IT'S RANGE, BUT THERE IS NO LICENSING.
MEDIUM POWER - WHICH WILL REQUIRE A LICENCE (LIMITER, EXCITER AND A 100 WATT PA REQUIRED)

The Exciter


100 WATT PA
GIVE US A CALL TO FIND OUT HOW TO DO IT
We can set you up with..
Equipment Hire (limiter, exciter, 100 watt PA, STL)
On air transmitting antennas
Full consultation service including on site testing to determine the listening coverage aera
Full set up service
All of the above, in complete package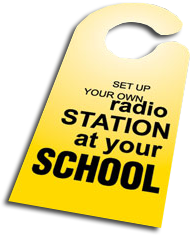 The Audio frequency response is about the same quality as CD music, making for a very clear crisp sounding audio. Uses digital stereo composite transmission for the signal to noise ratio, with exceptional cross talk.